Our Thoughts about the Environment
We, RUM Alliance, seek the improvement of the earth's environment, in both Japan and the rest of the world, and promote and work towards the move from a competitive to a cooperative and symbiotic society, and from a 'waste' society to a 'no waste' society in which companies work to conserve the environment.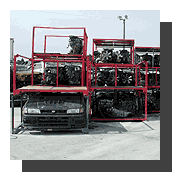 Up until now, since many motor vehicle recycling companies have been very small-scale enterprises, each one of them has operated in the obtaining of used cars, scrapping, and sale of parts both within Japan and overseas. However, even if these businesses thought constructively in regard to appropriate environmental considerations, there was a limit to what one company could achieve on their own. Nationally, the illegal abandonment of discarded motor vehicles and shredder dust has continued to occur one after the other.
This trend must be discontinued. As such, several environmentally like-minded motor vehicle recycling companies have joined together to create the RUM Alliance (Re-use Motorization Alliance), and are working together to pool our strengths and to achieve a society that recycles its waste products, on a worldwide scale.
More specifically, our members, who are scattered all over the nation, are aiming to achieve a 'zero environmental impact' by carrying out effective and stable re-use of all of ELV(End of Life Vehicles) through such measures as efficiently separating the parts and materials from used vehicles, circulating these parts and materials effectively both within Japan and internationally, and increasing recycling efforts.
Further, members of the RUM Alliance promote together and tie up with local academic, business, and governmental circles to develop methods, equipment and technologies to aid in the disposal of used motor vehicles, in the re-use of waste products etc.
Our members agree to the following:
1. Work to realize the achievement of a society that conserves the environment, through aiming for the recycling of all used cars within our area.
2. Take part in positive activities to work together towards the resolution of issues relating to the problems of illegal abandonment of motor vehicles.
3. Make public newly developed scrapping technology and equipment.